Why Recycle Your Vehicle?
Your old car or van may well be worth money and a permitted scrapyard may offer you payment in exchange for your vehicle – the amount will depend on its age, make and condition.
Scrap vehicles contain a lot of non-renewable resources that should be recycled and used again – over 70% of a car is metal, which is a lost opportunity if not recycled.
Scrap or End-of-Life Vehicles contain many materials that can pose a threat to the environment. Hazardous materials such as lubricating oils, break fluids, petrol and lead acid batteries are found in End-of-Life vehicles and need to be removed, stored and disposed of responsibly to ensure they don't cause environmental harm or pose a health and safety risk.
The recycling process
When your old car or small van is dropped off at one of our permitted scrapyards it goes through a recycling process.
Get your Certificate of Destruction
When you drop your car off you should receive a Certificate of Destruction (CoD). This ends your responsibility for the vehicle and allows the process of depollution and recycling to begin.
Depollution
First your vehicle will be depolluted. Hazardous materials such as lubricating oils, break fluids, petrol and lead acid batteries are removed from the vehicle and sent for recycling or recovery.
Parts reuse
Some permitted scrapyards will then remove parts from the vehicle to sell for reuse. This keeps other vehicles on the road a little bit longer and helps make the most of the material in your vehicle. If you are looking for a second-hand car part, recycling facilities in the ELVES Network that sell used parts are indicated by the 'Sells Used Parts' icon seen here on the right.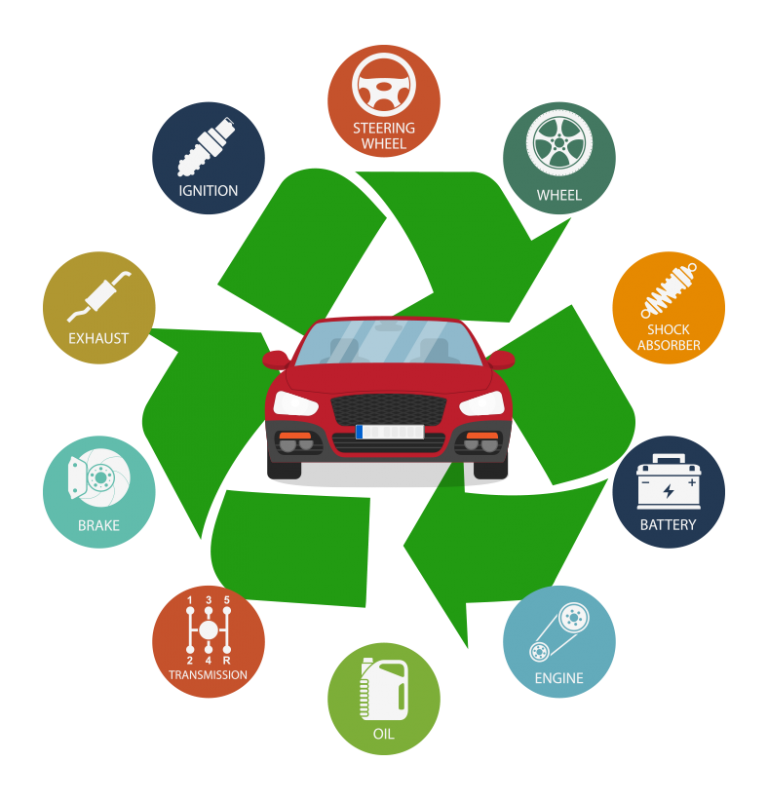 Recycling
Before going to the shredder some ATFs may remove certain materials from the vehicle to send separately for recycling – for example engines or wiring loom. The car shell is then sent to a shredding facility, where it is broken down to enable further separation of materials for recycling or recovery.

Achieving the reuse, recycling and recovery rates
All ATFs in the ELVES Network report to us on the rates of reuse, recycling and recovery that they achieve. ELVES also work with metal recyclers, further downstream, to ensure the reuse and recovery rates for ELVs accepted by our Network are met. Since it started operating in 2017, with our support, the ELVES Network of ATFs has met the 85% reuse and recycling and 95% reuse, recycling and recovery rates.
To find out more about the process of recycling an ELV see our Report: