Electric ELVES
The programme for electric vehicle batteries

The Electric ELVES Programme provides ATFs with the following support in relation to the handling of hybrid, electric, mild and micro hybrid vehicles:
Dismantling information provision
Training for ATFs
Free collection and recycling of the battery for ATFs
Additional support in the event that the vehicle/battery is potentially damaged.
The Electric ELVES programme is open to all ATFs, not just those in the ELVES Network and is delivered free of charge.
Safe Handling of Electric and Hybrid Vehicle Awareness Training for ATFs
ELVES has facilitated free training in the Safe Handling of Electric and Hybrid Vehicles to over 180 participants around Ireland. The training days, provided by Salvage Wire Ltd, have been provided in Dublin, Naas, Galway, Co. Monaghan, Cork, Limerick, Waterford, Sligo, Athlone and online in 2021
The sessions are aimed at ATFs currently operating in the sector and our objective is to ensure that they have the expertise and know-how to safely and effectively manage electric and hybrid vehicles.
The training is open to all ATFs in the Republic of Ireland, free of charge.
To register for your interest in future training days contact ELVES on info@elves.ie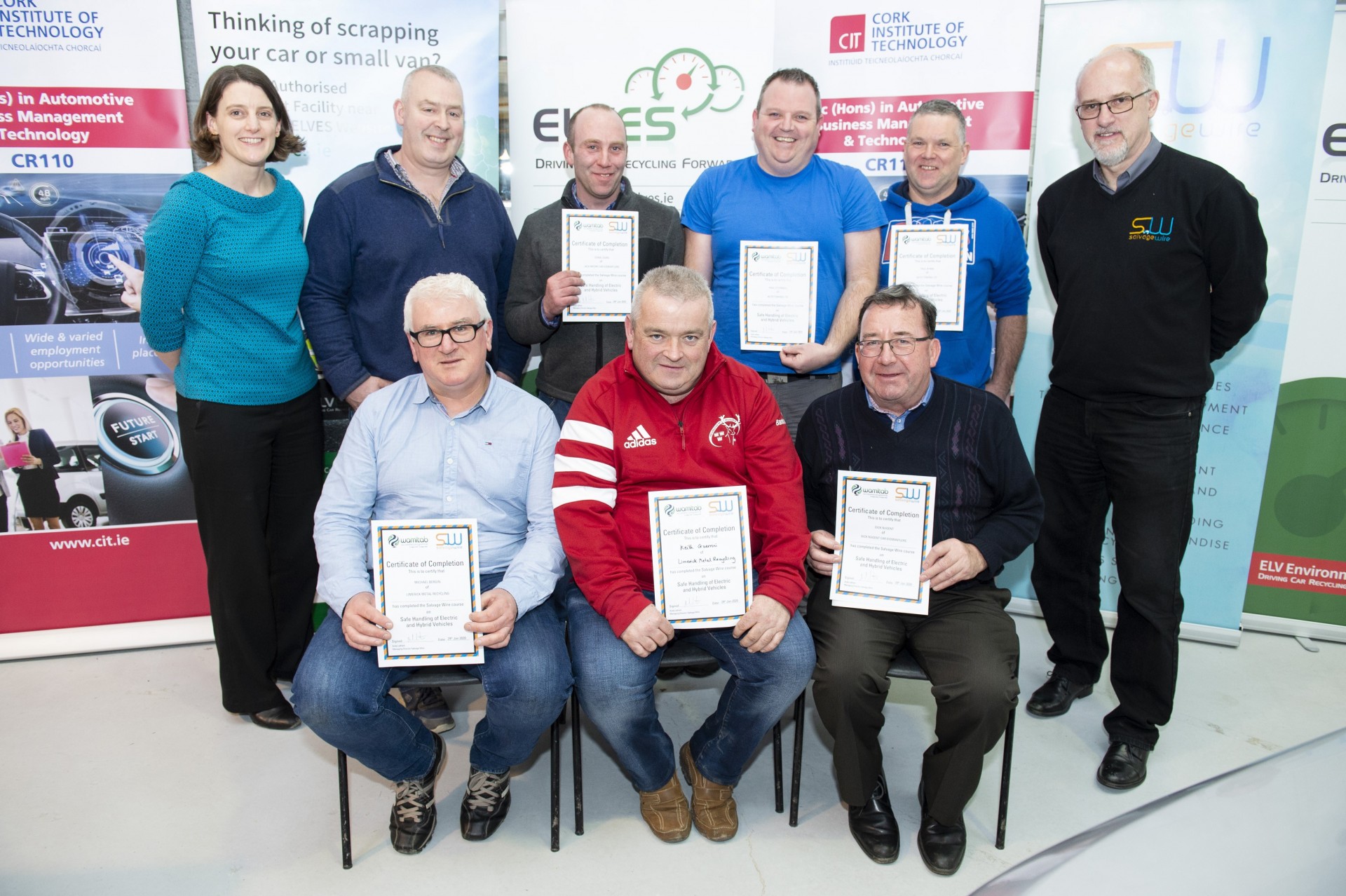 Next Electric ELVES Training Dates
Following our very successful November 2022 training days, the next round of ATF Electric Vehicle Awareness training will be held in May 2023.
If you are interested in attending our next round of training, please email us on info@elves.ie.
Electric ELVES Impact
The Electric ELVES programme has been in operation since 2018. Through the Electric ELVES battery collection service and awareness training programme for ATFs, Electric ELVES has delivered:
Please note, ELVES or its members accept no responsibility for the handling of hybrid, plug in hybrid, electric or mild hybrid vehicles or their batteries at your ATF. You remain responsible for the training and health and safety of your employees/ colleagues/ contractors and ensuring the guidance provided is followed correctly.
When using the Electric ELVES Programme, it is likely that you will need to submit personal data to us (for example a contact person at your ATF). Our Privacy Statement details our handing of this data and your rights in relation to this data.